Trevor Paglen
Trevor Paglen is an artist interested in how to see the historical moment we live in and developing the means to imagine alternative futures.
Intro:
Trevor Paglen is an artist whose work spans image-making, sculpture, investigative journalism, writing, engineering, and numerous other disciplines. He is the author of five books and numerous articles on subjects including experimental geography, state secrecy, military symbology, photography, and visuality. Paglen's work has been profiled in the New York Times, Vice Magazine, the New Yorker, and Art Forum. In 2014, he received the Electronic Frontier Foundation's Pioneer Award for his work as a "groundbreaking investigative artist."
Selected AI Artworks: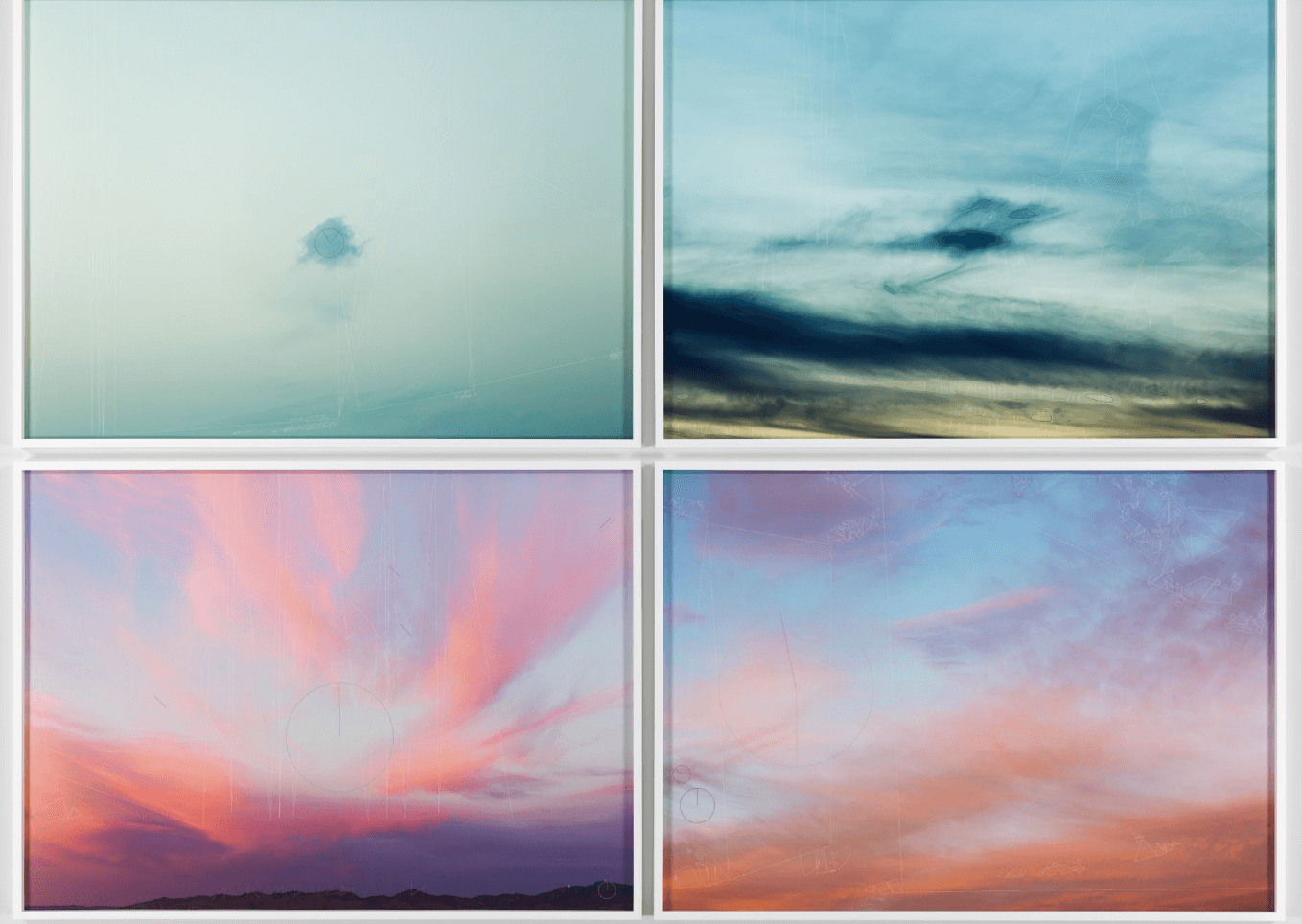 The four skyscapes are overlaid with strokes and lines that show what four different computer vision algorithms are seeing in the images. The algorithms are looking for unique key-points—areas of interest—and are attempting to simplify the underlying photograph into a series of sections.
Autonomy Cube is itself a Tor relay, and can be used by others around the world to anonymize their internet use. When Autonomy Cube is installed, both the sculpture, host institution, and users become part of a privacy-oriented, volunteer run internet infrastructure.
Paglen on using Artificial Intelligence:
How would you describe the facial recognition technology that you use in your work?
"It's more like fingerprinting than classical portraiture. What you're seeing is not a photorealistic image of the face. You're seeing an image that is the most probable statistical distribution of the values of the pixels in an image of that person."
Paglen on the questions that generated his installation A Study of Invisible Images, which shows the images that teach AI about our world:
"What does the inside of the cloud look like? What are artificial intelligence systems actually seeing when they see the world?"
Paglen's Background:
Paglen's work has had one-person exhibitions at Vienna Secession, Eli & Edythe Broad Art Museum, Van Abbe Museum, Frankfurter Kunstverein, and Protocinema Istanbul, and participated in group exhibitions the Metropolitan Museum of Art, the San Francisco Museum of Modern Art, the Tate Modern, and numerous other venues. He has launched an artwork into distant orbit around Earth in collaboration with Creative Time and MIT, contributed research and cinematography to the Academy Award-winning film Citizenfour, and created a radioactive public sculpture for the exclusion zone in Fukushima, Japan.
Paglen holds a B.A. from U.C. Berkeley, an MFA from the Art Institute of Chicago, and a Ph.D. in Geography from U.C. Berkeley.
Paglen's Awards:
Paglen's Selected Exhibitions, Events, & Lectures:
2019 Sites Unseen (Solo Exhibition), Smithsonian American Art Museum, Washington D.C., USA

2019 Walls Turned Sideways, Contemporary Arts Museum, Houston, USA

2019 The Value of Freedom, Vienna, Austria

2019 Low Form, MAXXI, Rome, Italy

2019 Artes Mundi 8, National Museum Cardiff, Walles, UK

2019 Art in the Age of the Internet, University of Michigan Museum of Art, Ann Arbor, USA

2018 Expanding Narratives, University of Chicago
Paglen's Selected Speaking Engagements:
2015 Smithsonian's Clarice Smith Distinguished Lecture

2015 Artist Talk - Trevor Paglen and Jenny Holzer, Art Basel
Paglen's Selected Press:
Learn more about Trevor Paglen: