Lauren McCarthy
Lauren McCarthy is an LA-based artist examining human identity and interactions amidst the backdrop of automation and algorithmic living.
Intro:
Lauren McCarthy is an LA-based artist examining social relationships in the midst of surveillance, automation, and algorithmic living. She is the creator of p5.js, an open source programming language with over 1.5 million users, for learning creative expression through code online. She is Co-Director of the Processing Foundation, a non-profit whose mission is to promote software literacy within the visual arts, and visual literacy within technology-related fields—and to make these fields accessible to diverse communities. She is an Assistant Professor at UCLA Design Media Arts. She holds an MFA from UCLA and a BS Computer Science and BS Art and Design from MIT.
Selected Artworks:
In a performance lasting several days, the artist attempts to become a human version of Amazon Alexa. The relationship that emerges falls in the ambiguous space between human-machine and human-human.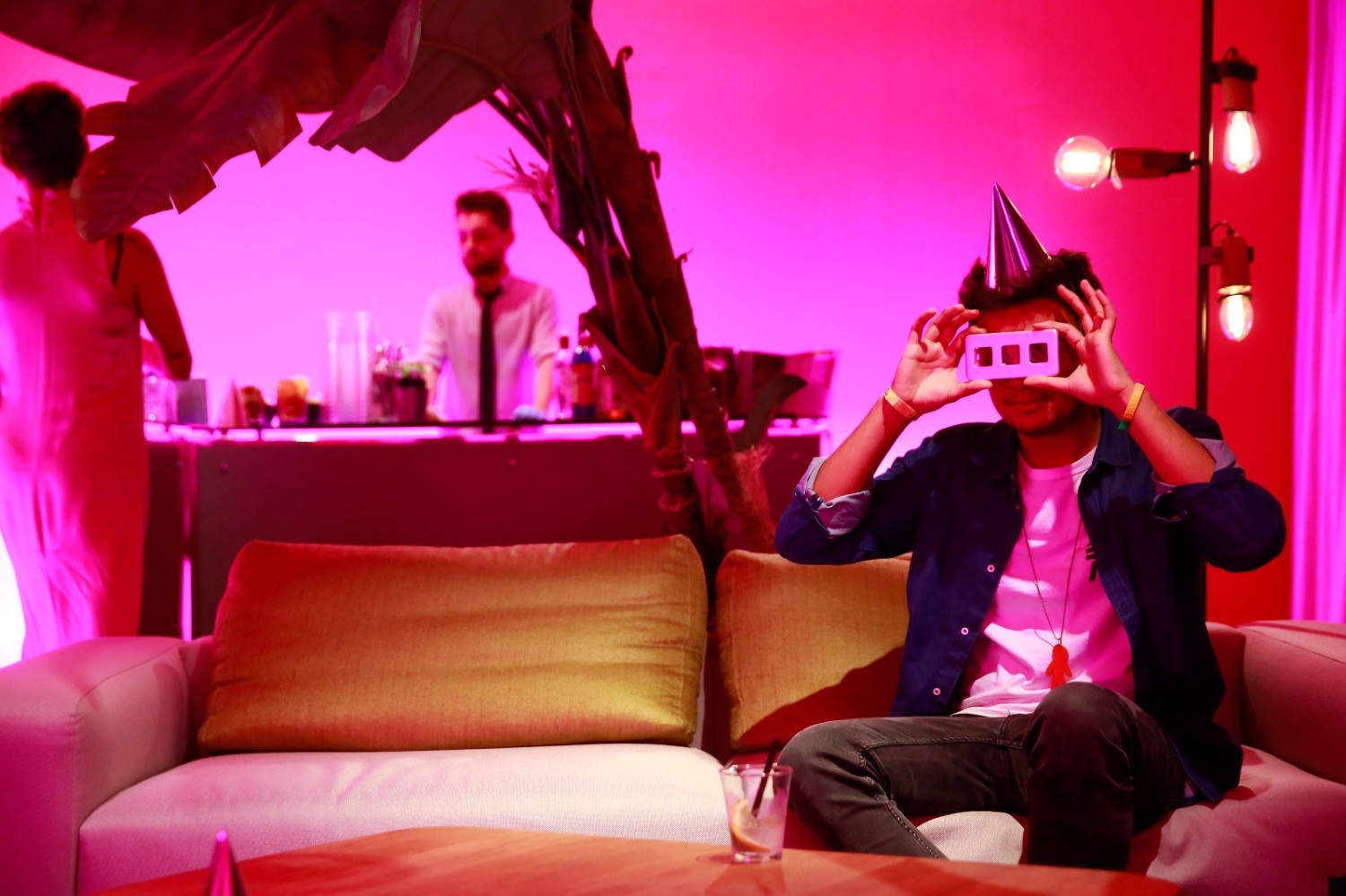 The 24h HOST performance is a small party that lasts for 24 hours, driven by software that automates the event, embodied in human HOST.
This custom software installation and performance invites participants to select one of hundreds of emotions, then evoking that emotion in them and everyone in the space through a layered environment of light, visuals, sound, text, and interaction exhibited over the entire space.
This installation invites you to act as a human version of Amazon Alexa and step into participant's homes as their home automation assistant and respond to their needs.
McCarthy on her piece LAUREN:
"The process begins with an installation of a series of custom-networked devices that include cameras, microphones, switches, door locks, faucets, and other electronics. For three days, I remotely watch over the person 24/7 and control all aspects of their home. I attempt to be better than an AI, because I can understand them as a person and anticipate their needs.
Sometimes this means following them from room to room, turning on lights ahead of their steps. Other times their needs are more obscure, and I order special deliveries to their home or contact their friends through Facebook to arrange a visit or a text message.
They are usually expecting more technical tricks at first, a real sci-fi experience. But much like smart homes of today, I mostly do what they could do themselves — things like flipping switches, playing music, and looking up answers.
The LAUREN experience is ultimately about presence. Despite my lack of tricks, they are very aware that I am there, and aware of their own presence too. I'm trying to highlight this trade we are making for these surveillance smart devices. We give access to all our data and live camera feeds — for what? I hope that by being a real person on the end of that, I am offering something more than an Alexa AI at least…
We are meant to think smart home devices are about utility, but the space they invade is personal. The home is the place where we are first watched over, first socialized, first cared for. How does it feel to have this role assumed by artificial intelligence? Our home is the first site of cultural education; it's where we learn to be a person. By allowing these devices in, we outsource the formation of our identity to a virtual assistant whose values are programmed by a small, homogenous group of developers.
They may not share the values or cultural reference points that we want to embed in your family's home. Women, long seen as the keeper of the home domain, as complicated as that notion is, are now further subjugated. Their control is undermined by the smart home "assisting" and shaping each activity…
In LAUREN, I am wrestling for control with artificial intelligence. The participants are also negotiating boundaries and poking at the system. The point of this project is not to impose a point of view, but to give viewers a space to form their own. Immersed in the system in the comfort of their homes, people are able to engage with the tensions. Some moments are awkward and confusing, others are hopeful and intimate. Together, we have a conversation. Do we feel any limits when it comes to letting AI into our data, our decision making, and our most private spaces?"
You can read more in her Medium post about it.
McCarthy's Awards & Residencies:
2019 Creative Capital Grantee

ZERO1 Arts Incubator Resident

Sundance Institute Fellow

Eyebeam Resident

Residency - CMU STUDIO for Creative Inquiry

Residency - Autodesk

Residency - NYU ITP

Residency - Ars Electronica / QUT TRANSMIT³. She is the recipient of grants from

Knight Foundation grant recipient

Online News Association grant recipient

Mozilla Foundation grant recipient

Google AMI grant recipient

Sundance Institute New Frontiers Labs grant recipient

Turner Broadcasting grant recipient

Rhizome grant recipient
McCarthy's Selected Exhibitions and Installations:
Ars Electronica

Barbican Centre

Fotomuseum Winterthur

SIGGRAPH

Onassis Cultural Center

IDFA DocLab

Science Gallery Dublin

Seoul Mediacity Bienniale at the Seoul Museum of Art

Japan Media Arts Festival

London Eye

US Holocaust Memorial Museum

Lincoln Center for Performing Arts
McCarthy's Selected Press:
Learn more about Lauren McCarthy: