Ouchhh
Ouchhh is an award winning independent creative new media studio with cross-discipline expertise in art, science, and technology.
Intro:
Ouchhh is a multidisciplinary creative hub focused on interactive new media platforms, artificial intelligence, data-driven sculptures & paintings, kinetic public arts, immersive experiences, and producing A/V architectural facade performances. Ouchhh is exploring the boundaries of art by researching the relationship between architecture, art, science, technology, new media arts and artificial intelligence.
Selected AI Artworks:
Poetic AI Exhibition Paris
By using machine learning and AI algorithms, Ouchhh created a scientific, conscious "Poetic Refraction" of AI reality, which learns from millions of lines of theory, articles and books about light, physics and space-time written by scientists who have changed the destiny of the world.
The title animation was inspired by this year's main theme "ripples of curiosity," where TEDxCERN will explore curiosity and the innovations it sparks. Topics include artificial intelligence, DNA editing, biotechnology, global literacy, DIY science, drones, oceanography, as well as dark matter and gravitational waves.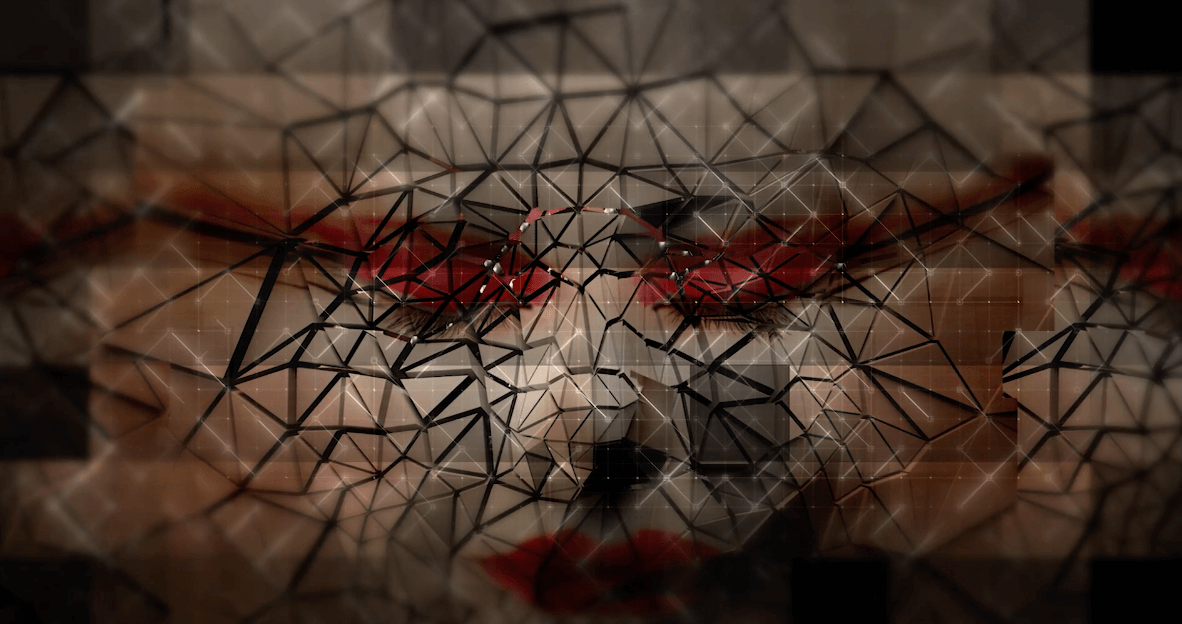 Dare to Dream is a new face projection mapping work using Real-Time Face Tracking. Dare to Dream is included within the Vodafone Digital Transformation.
Eylül Duranagaç, the creative director of Ouchhh, on using Artificial Intelligence:
What was it like working on AVA V2?
"AVA V2 particle physics installation was the hardest project. The first version was in Paris in a warehouse. By integrating the particle physics measurements (diameter, area, perimeter, etc.), we created a morphologically characterised installation which the R&D part was extremely important. So this R&D part was really challenging and important. With a 6 month of research, we were inspired by Buckminster Fuller's iconic Dome structures. We decided on this version by from many other versions we created. With our own technique, we wanted to create a 360-degree installation which can be observed from the outside with our mapping. Although it was challenging from the technical and R&D side at the end, we were satisfied with the result."
Where do you see the future of Ouchhh going?
"We actually created the world's biggest artificial intelligence performance by using 104 projections. And we are planning to develop more AI projects."
Ouchhh's Selected Awards:
2019 Red Dot Design Award, Best of the Best, Poetic Ai - World's Biggest AI Exhibition

2019- Muse Creative Awards USA for "POETIC AI World's biggest AI Exhibition"

2019- Muse Creative Awards USA for DATA GATE, World's First NASA AI Astronomical Research Data Sculpture Public Art'', Experiential, Immersive Category

2019-11th IDA Design Awards, Girard-Perregaux-Silver Award, Multimedia Animations

2017- Red Dot Award: Communication Design - Berlin

2017- ADC Awards 2017 (The Art Directors Club) - Title Sequences Category - Merit Cube - New York

2017-German Design Award- AVA_V2 / Particle Physics_Scientific_Installation-Excellent Communication Design
Ouchhh's Selected Exhibitions & Performances:
2018- '' Poetic Ai Exhibition''- Atelier Des Lumieres-Paris

2018- ''Neuroscientific Installation" -File Festival -São Paulo, Brazil

2018- ''POETIC AI" -Solo Exhibition at Atelier des Lumières -Paris

2018- ''Parallel Universe''- Solo Retrospective Exhibition-Artechouse-Washington D.C

2018- AVA V2-White Night Melbourne

2017- ARCHITECTURAL _ AI PERFORMANCE- Bolshoi Theatre -Circle of Light

2017- World's biggest architectural AI Performance- iMapp Bucharest

2017- IOTA AI Performance - Ars Electronica-Deep Space 8k

2017- ''Orion Code based A/V Light Installation Performance'' - Mira Digital Arts Festival

2017- ''Saccade'' Led Surface of Fiesp Building -San Paulo-Brazil

2017- ''Homeomoprhism", Japan Media Arts Festival

2017- '' AVA_V2'' - York Art Gallery- UK

2016- ''AVA V2'' - TEDxCERN-"ripples of curiosity"- CERN/Geneva

2016- ''Digital Couture/Arzu Kaprol'' -Mercedes Fashion Week-Istanbul

2016- ''Digital Symphony and Digital Couture'', CNN International Network Channel HLN,Morning Express with Robin Meade for New York Fashion Week.

2016- ''Sphinx'', Audio Visual Public Art Piece, Roma, Italy.

2015- '' AVA'', Alter Paname, France, Paris

2015- '' Homeomorphism'', CERN, the European Organization for Nuclear Research, Geneva, Switzerland

2013 - YAP Istanbul Modern & MoMA PS1, The Museum of Modern Art (MoMA), NewYork, United States
Ouchhh's Selected Press:
Learn more about Ouchhh: