Sougwen Chung
Sougwen Chung is an award-winning artist who uses hand and technologically-reproduced marks to explore communication between people and machines.
Intro:
Sougwen Chung is an internationally renowned multidisciplinary artist, who uses hand-drawn and computer-generated marks to address the closeness between person-to-person and person-to-machine communication. She is a former researcher at MIT Media Lab and current Artist in Resident at Bell Labs and New Museum of Contemporary Art in New York. Her speculative critical practice spans installation, sculpture, still image, drawing, and performance.
Selected AI artworks:
Omnia per Omnia reimagines the tradition of landscape painting as a collaboration between an artist, a robotic swarm, and the dynamic flow of a city.
Drawing Operations (Duet)
Drawing Operations (Duet) is a performance centered on a drawing collaboration between human and machine.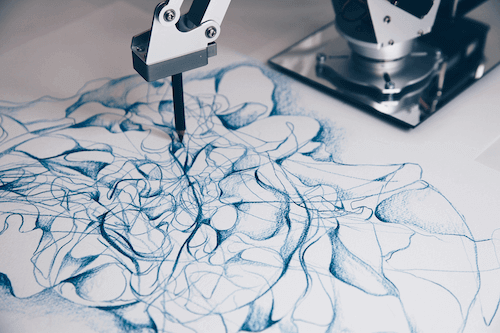 Drawing Operations Unit: Generation 2
Drawing Operations Unit: Generation 2 involves robotic memory, and is an explorat ion into a machine that learns the drawing style of the artists hand.
Chung on using artificial intelligence:
How has working with AI shaped your artistic practice?
"Being able to engage with mark-making in collaboration with a robot means not always knowing what I'm doing—and that has been really enlightening. It's helped me work through and question what narratives we tell when we engage in collaboration with mechanical agents, and technologies in general. In the conversation of AI, that gets really broad—dystopian, utopian, occasionally fraught with controversy. When people think about AI there is a tendency to ascribe or imagine, considerable agency. Something like an artificial consciousness, however far-reaching that might be. I'm compelled by the human capacity to anthropomorphize our relationship to machines, particularly to robots, and how that can end up being a mirror for how we view ourselves and our own interactions with others. There are didactic models that are encouraged by developments in IoT and voice interfaces. But the collaborative models are more interesting to me. It's a new stage for examining authorship and agency. It starts to question, who is in control? Who do we want to be in control? Is that the point?"
What kind of questions did you explore while in residence with Bell Labs?
"I've been exploring the fields of collaborative robotics, computer vision, and biometrics during my residency. It's been able to observe how the role of connected machines are expanding in scale and scope through advances in artificial intelligence and the proliferation of mechanical agencies in IOT and in workplace automation…. I had the privilege of being able to work with a diverse array of collaborators in my practice. At Bell Labs has been the place where it's all come together. I've been able to take the divergent influences, ideas, and prototypes that I've been working on, and sit and reflect on them in the quiet space of my studio… What do people want society to look like in ten years? Our generation and the generation before ours have seen the internet turn into what it is today, from dial-up to Uber. We've been able to see the internet evolve, and we're only just starting to reflect back on the past twenty years of this invention and how it's influenced how we interact with each other, how we communicate, how we move around. Facilities like Bell Labs have an inside view into how digital technologies have shaped our culture, so the awareness that the decisions we make today can have a significant impact on society ten years from now comes naturally to their legacy and vision moving forward. The same can be said for artistic institutions—the idea of shaping the future through community and artistic artifacts while maintaining a cultural archive, a record of what was."
Sougwen Chung's background:
Sougwen Chung explores marks made by hand vs. made by machine as an approach to understanding the interaction between humans and computers. Her speculative critical practice spans installation, sculpture, still image, drawing, and performance.
Chung received Japan Media Art's Excellence Award in 2016 for her project, 'Drawing Operations'. She has been awarded Artist in Residence positions at Google, Eyebeam, Japan Media Arts, and Pier 9 Autodesk. In 2014, she was selected as one of the Top 20 New Visual Artists by Print Magazine.
Sougwen's multidisciplinary work has been exhibited internationally, including the Museum of Contemporary Art in Geneva, The New Museum of Contemporary Art in New York, the NTT Intercommunication Center (ICC) in Tokyo, and The Drawing Center in New York. Her work has been featured in The New Yorker, the BBC, The New York Times, Fast Company, Wired, Endgadget and USA Today.
As one of the pioneering artists of her generation, Sougwen's art challenges the imagination through its minimalist yet dramatic form. Sougwen's art speaks of movement and change and reflects images of nature in a truly modern setting:
Pioneering Artist in Human & Machine Collaboration

Former Artist & Research Affiliate at MIT Media Lab

Current Artist in Residence at Bell Labs

Founding member of The New Museum's E.A.T. Experiments in Art & Technology

Drawing, Installation & Technology #drawingwithdoug
Chung's Awards & Residencies:
2017
Bell Labs Artist in Residence in partnership with New Inc, E.A.T. and New Museum (NJ)

Japan Media Arts Artist in Residence (Tokyo)
2016
Google Artist In Residence (SF)

Excellence Award (Entertainment Division), Japan Media Arts Festival
2015
Visiting Artist, Social Computing, MIT Media Lab
2014-2015
Inaugural member of The New Museum's NEW INC
2014
New Visual Artists, Top 20 artists under 30, Print Magazine
2010
Ghostly Visual Music Collaborative, Eyebeam, New York, New York
Chung's Selected Exhibitions:
2018 Drawing Operations (Performance), Global Art Forum: I am not a Robot (Singapore Edition), ArtScience Museum, Singapore

2018 Omnia per Omnia, Only Human, Mana Contemporary, New Jersey 2017 Open Space, NTT InterCommunication Center [ICC], Tokyo, Japan

2017 Mytheme (Étude Op. 4), Naturalismo Digital, Centro de Cultura Digital, Mexico City

2016 Chiaroscuro, Nonspaces/Yokyerler Exhibition, Akbank Sanat, Istanbul, Turkey

2016 Drawing Operations Unit: Generation 1, Skyroom Performance, New Museum, New York

2016 Drawing Operations Unit: Generation 1, Ubiquitous Humanity, The Annex, Hong Kong

2016 Imaginary Blueprints, Drawing Sound III: Composing the City, Drawing Center, New York, New York

2016 Coalesce, RESOUND, Simons Center Gallery, Stonybrook, NY

2016 Drawing Operations Unit: Generation 1, Japan Media Arts Festival Showcase (Excellence Award Winner), National Art Center, Tokyo, Japan

2015 Drawing Operations Unit: Generation 1, NEW INC Showcase, Redbull Studios, New York, New York

2015 Praesentia, NEW INC Demo Day, New Museum Skyroom, New York, New Yor

2014 Ecdysis, Drop Everything, Galway, Ireland

2014 Ecdysis, Communikey Festival, Black Box Theatre, Denver Colarado

2014 Ecdysis, 319 Scholes Gallery, Brooklyn, New York

2013 Chiaroscuro, Mapping Festival. Museum of Contemporary Art, Geneva, Switzerland

2013 Chiaroscuro, Public Functionary, Minneapolis, Minnesota

2013 God Mode, 319 Scholes, Brooklyn, New York

2013 Hacking Arts, MIT Media Lab, Cambridge, Massachusetts

2012 Chiaroscuro, Of Art and Artifice, Art Directors Club, New York, NY

2011 Sprawl, Devotion Gallery, Brooklyn NY

2010 The Shift Exhibition, 319 Scholes, Brooklyn NY

2010 Sounds Like, ICFF, New York, NY
Chung's selected speaking and teaching:
2017 Project to Support Media Arts Creators, Portal Point Gallery, Tokyo, Japan

2016 Speaker, Playgrounds Festival, Amsterdam, Netherland

2016 Speaker, Panic Room, Amsterdam, Netherlands

2016 Collaborative Presentation, Translation, Media, & Music (Talk with Luisa Pereria ), Loop Festival, Berlin, Germany

2016 Panel, AV Exchange, Loop Festival, Berlin, Germany

2016 Panel, RESOUND, Simons Center for Physics, Stonybrook, NY

2016 Speaker, SXSW Analog, Austin, Texas

2016 Speaker, OFFF Quebec, Montreal, Canada

2016 Speaker, Tribeca Film Institute Interactive, NYC, NY

2016 Speaker, Gray Area Festival, San Francisco, California

2016 Speaker, Facets Conference, NYC NY

2015 Speaker, FITC Tokyo, Japan

2015 Speaker, FITC Amsterdam, Netherlands

2015 Speaker, Toca Me, Munich, Germany

2014 Keynote Speaker, Internetdargma, Stockholm, Sweden

2014 Speaker, Camp Festival, Calgary, Alberta

2014 Speaker, OFFF Cincinnati, Ohio

2014 Keynote Speaker, FITC Toronto, Ontario

2014 Guest Lecturer, ITP Master Class, New York, New York

2014 Panelist, "Wrapping the world with light", SXSW, Austin, Texas

2014 Speaker, FITC Amsterdam, Netherlands

2014 Speaker, Alphaville Exchange Festival, London, England

2013 Speaker, OFFF Mexico City, Mexico

2013 Workshop Leader, Drawing & ProjectionMapping, OFFF Mexico, Mexico City, MX

2013 Speaker, OFFF Barcelona, Spain

2013 Speaker, Musical Mapping, Geneva, Switzerland

2012 Speaker, Of Art and Artifice, New York, New York

2010 Panelist, The Digital Creators Panel, Michigan

2010 Panelist, Future of Design PSFK NY Design Week, New York, New York
Chung's selected press:
Learn more about Sougwen Chung: